MY960 Multi Cut Spiral Paper Tube Core Winding Machine
Visits: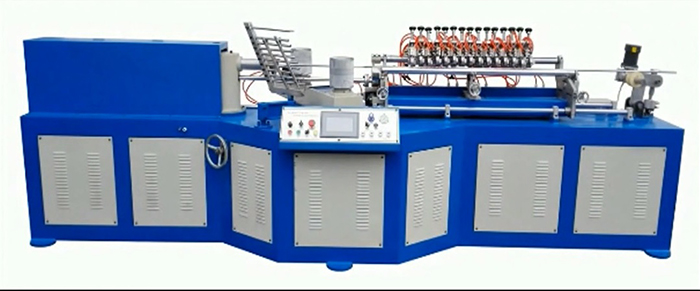 MY960 multi cut spiral paper tube core winding machine
USE:
Suitable for all kind of paper tube / core production,such as package tin,tea caddy,
food cans,wine cans,fireworks tube,calendar tube,fax paper core,etc.
FEATURE:
1.With multi function waxing paper device and auto stop when paper cut off.
2.With online multi-cut blades,no need secondary cutting,save labor and time.
3.Stable production at the highest speed 60m/min,the firdt of its kind in China
Basic parameter:
•Tube I.D.: 10-60mm
•Tube wall thickness: 1-5mm
•Paper plies: 8 plies
•Paper gramme: 100-350GSM
•Machinery speed: 10-60m/min (depend on tube sizes, material quality and operator skill )
•In-line cut off length: 50-1500mm (or more) Machine Consists:
.Paper reel stand 8ply
.Glue system 8ply
.New design main machine
.Paper tube auto load shelf
Technical Parameter
Control system
Number of roller: 3-8 layer
PLC controlle:r Delta DVP28SV
Tube diameter: 10-60 mm
Touch screen: MCGS TPC7062
Tube wall-thickness: 0.5-5 mm
Transducer: YASKAWA 3.7KW
Core mould fixed way: Flank chuck
Electric part: Schneider
Winding head: 2
Single part :Omron
Cutting way: Round knife
Pneumatic part: AIRTAC
Gluing way: Single / double sides
Fix length way:Optoelectronic switch/encode
Operator:1-2 person
Equip device
Winding speed:3-60 m/min
Paper shelf type:Integral reel stand
Speed control:Transducer
Auto fall tube shelf:Have
Driving system:Glue shelf
Main motor:4.0KW
Belts:2
Reducer type:WPO155 JIACHENG
Core mould:2
Glue pump:1.5 KW
Mainframe size & Weight
Mainframe size: 4000*1600*1600 mm
Weight:2000 KG
Area space: 8000*8000 mm