Paper Core Machine DG-64200
Visits: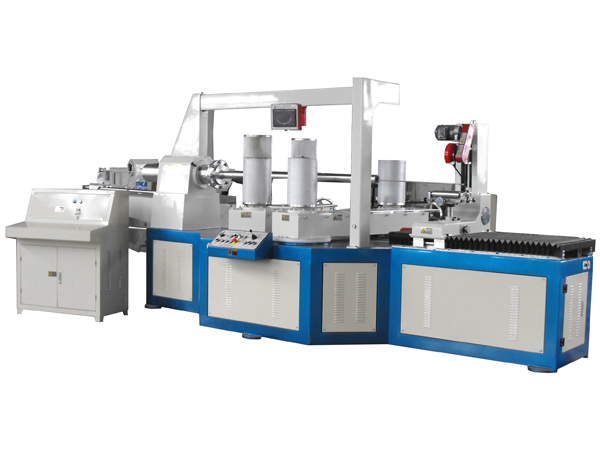 This kind of Paper Core Machine with Model DG-64200 used to produce a series of paper tube,including fireworks tube, rolls of cloth core,electricity aluminum core, cotton core,fax paper core,preservative film core,toilet paper core and so on.
1. Adopting imported PLC logic control system and single electricity control box, the speed of mainframe is adjusted by transducer which can save 30% electricity than by common electromagnetic.
2. The control circuit adopts integrated mother with insert and pull terminal connection, every terminal has function instruction. It is more intuitional, convenient and scientific to be used, repaired and preserved.
3.Adopting imported color touch-screen5.7",graph operating system, leading interface designs and several kinds of functions tentacles controllable, so as to easy to operate, automatic to memory and reserve, automatic to alarm and so on.
4. This paper core machine is equipped with the most advance CNC computer digital control system and SMS synchronized follow cutting system,
5.Dopting sibgle bound blade to cut and all digital control drive blade (without driving by cylinder) to make cutting location much precise, so that improves incision smoothness without cutting again or waste.
6. It's surpass silence design (national patent), tight convey frame, high efficiency, low maintain.
7.Dopting two-side gluing, single stainless glue solt, imported polyurethane drawknife, the intensity of paper core that produce by this machine id better than single face traditional machine.
8. The belt angle and machine angle are controlled by motor, swing angle set up on touch screen.
9.It has the long-distance control function and is equipped with our factory special communication tools and monitor software. Users can use computer to monitor the condition of machine running at office or other place.
Model

DG-64200 PAPER CORE MACHINE

Technical parameter

Wheel hub driving

4wheels

Number of roll paper

3-24 layer

Cutting blade motor

servo

Max-diameter

300mm

bearing

Wanxiang

Min-diameter

25mm

Control system

Max-thickness

15mm

Controller




Min-thickness

1mm

Man-machine interface

We!view506T color touch screen

Rolling core matrix fixed way

fixation

Program edition

E 1.0

Rewinding noses

Four noses double belt

Transducer

Anchuang 15KW

Cutting way

Three blade cutting

Execute equipment

Zhentai

Gluing way

Double sides

Signal component

Lugong

Fixed length way

Infrared/

Numbering device

Pneumatical part

Ya de hu

opertor

1-4

Angle adjusting machine

Ziguang low speed

Productive speed

3-20m/min

synchronized control

Servo

Speed of adjust and control

transducer

Synchronized follow system

Have

Power input

3*380V

Outfit assemble

Size (mm)

Remote control

Have

Mainframe size:

L*W*H

4400*2000*1600

Auto falling tube shelf

Have

Area space:L*W

18000*6000

Angle of belt

Auto

Wheel hub diameter

235mm

Belt adjust

manual

Wheel hub width

400/650

Mainframe swing angle

Can choose

Min-tread

900

Stop when paper without

Can choose

Max-tread

1150

Auto giving glue

Gear pump 1.5KW

Total weight

About 2260kg

Auto giving lubricating oil

Auto

Drive system

Tension control

By Air pressure

Main power

15KW

Paper-shelf type

Whole shelf

Move speed

1400r/min

belt

sailcloth

Hub max speed

80r/min

Enclosed component

Hub output force

8600n.m

Winding anxle

2

Reductor type

Wpo155

aircompressor

--

Gearbox typa

Jiefang 141

Useful tool

have

Driving chain type

16A*2

Winding belt

2