paper core making machine with model JY120B
Visits: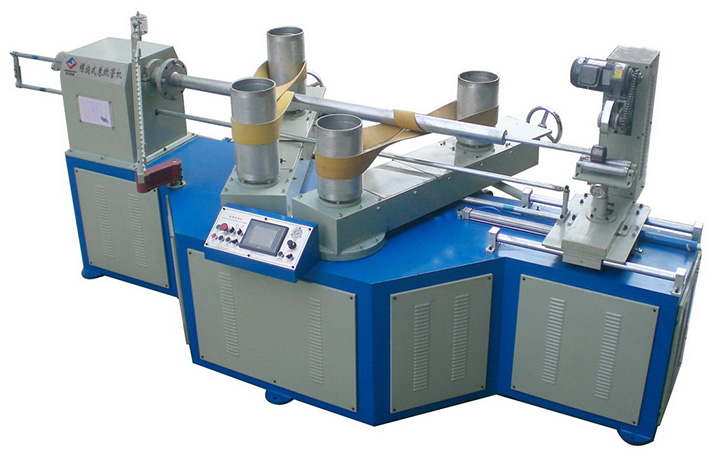 Apply to textiles, plastic, industrial pipe industries. Such as fabric reel, chemical fiber pipe inner core.
Model No JY-120 B paper tube making machine
Technical parameters
Number of roll paper 3-16layer
PLC controller DVP-F232
Remote control One pair
Max diameter 200mm
Touch screen we!view506T
Auto falling tubes shelf Have
Min diameter 17mm
Transducer Delta 7.5KW
Angle of belt Auto
Max thickness 10mm
Synchronized control Have Belt adjust
Min thickness 1mm
Execute equipment YBLXW-AZ
Mainframe swing angle 5GU 60:1
Roll core mold fixed Three claws chuck
Swing motor 90 W
Gluing way Independent tank / polyurethane squeegee.
Winding head 4 rolls of double- belt Signal SHHG Angle of belt Auto
Cutting mode Single knife cutting
Pneumatic part Airtac Paper-shelf type Whole-shelf
Glue way Double sides
Length- fixed way Infrared way
Auto giving glue Gear pump 1.5KW
Operator 1-2person
Drive system Tape wax system Have
Paper delivery speed 3-20m/min
Electrical motor 7.5KW
Enclosed component
Speed control Transducer
Motor speed 1400r Belt Sailcloth
Input power 3*380V
Gearbox type WPO135 Winding core rod 2
Weight 2000 kg
Driving chain type 16A*2
Winding core belt 2
Mainframe size 3400*2000*1800mm
Cutting blade Single round knife.
Useful tool A set
Bearing Wanxiang
Brand JinYue
airflow spinning tube, etc